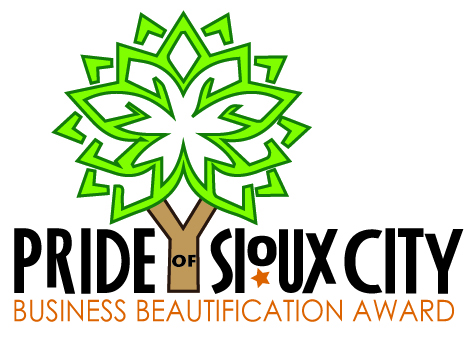 The Sioux City Economic Development Department wants to encourage and highlight Sioux City employers who show pride in the appearance of their business property by awarding selected businesses the Pride of Sioux City: Business Beautification Award.
A committee comprised of local business professionals and city staff will select a Sioux City company from a list of nominations to receive the Pride of Sioux City award. The recognition will be awarded and presented at the City Council meeting.
Companies selected will be recognized by the Mayor with a commendation at the beginning of council meetings. In addition, a framed award will be presented, a yard sign and window sticker to be displayed at the business to reinforce their contribution to the beautification of Sioux City. The company will also receive recognition in the Sioux City Journal, city economic development website and city social media platforms.
The award is open to all Sioux City businesses and nominations are now being accepted for summer 2019. Please complete the nomination form below.
CRITERIA
Neatly trimmed lawn, bushes and trees
Property free of litter and weeds
Use of sound landscape practices
Originality
Condition of flowers
Appearance of building façade and signs
Sense of community
Use of public art
In accordance with city's zoning code
Overall appearance from curb
NOMINATE A BUSINESS: Nomination Form
Return Nomination form to:
City of Sioux City
Economic Development
405 6th Street
Sioux City, IA 51101
or email Gabby Menard at gmenard@sioux-city.org
Any Questions? Contact the Sioux City Economic Development Department 712.224.5500
Export table as CSV