What's Happening Thumbnail: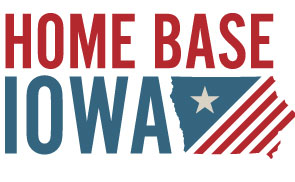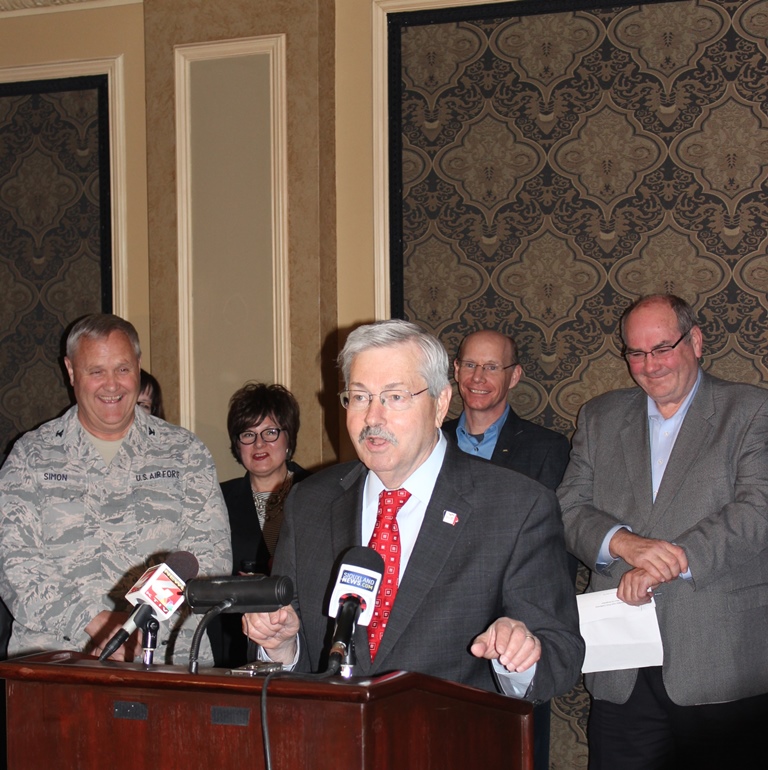 (DES MOINES) – Gov. Terry E. Branstad today announced Sioux City has met the criteria to become designated as a Home Base Iowa Community. Today he also announced Western Iowa Tech Community College has been designated as a Home Base Iowa Certified Higher Academic Military Partners (CHAMP). A formal announcement and press conference will be held today in Sioux City at the Orpheum Theatre at 4:45 p.m.
Sioux City joins thirteen existing communities in becoming a certified Home Base Iowa Communities . To become a Home Base Iowa Community, an area must meet the following criteria: 10% of its businesses with potential to hire sign on as Home Base Iowa Businesses; local government supports the effort; signage indicates the community is a Home Base Iowa Community and the community creates local incentives that offer additional benefits for Veterans and that complement those in the statewide Home Base Iowa Act.
"With 1300 Veterans hired through Home Base Iowa efforts thus far, this program is certainly successful," said Branstad. "As these communities have demonstrated, Iowans are embracing the Home Base Iowa initiative to create communities that are welcoming and attractive to Veterans and to provide transitioning military members with every opportunity for success."
Western Iowa Tech Community College joins the existing HBI CHAMPs—Upper Iowa University, Mount Mercy University, University of Dubuque, Mercy College of Health Sciences, University of Iowa, Iowa State University, University of Northern Iowa, Des Moines Area Community College, Hawkeye Community College, Iowa Central Community College and Eastern Iowa Community College. The Home Base Iowa CHAMP program allows Iowa colleges and universities to become certified for their ability to educate and assist Veterans on campus. The certification will help attract Veterans and transitioning Service Members to Iowa. It also helps academic institutions market their campus as Veteran-friendly. To become a Home Base Iowa CHAMP, education institutions must meet criteria in each of the three categories: On-Campus Veteran Resources, Mindfulness of Service Member Transitions and Financial Considerations.
There are over 80 businesses who have signed on to hire Veterans as part of Sioux City's efforts. An extensive list of incentives are available to military members including retail, entertainment, hotel and transportation discounts. Qualifying Veterans relocating to Sioux City may also be eligible for up to $19,999 in local housing assistance, in addition to the $5,000 offered through the Home Ownership Assistance Program statewide. Sioux City also offers an extensive list of additional incentives from local businesses available to military members at http://locatesiouxcity.com/workforce .
BACKGROUND ON THE HOME BASE IOWA ACT
Gov. Branstad and Lt. Gov. Kim Reynolds launched the Home Base Iowa initiative in November of 2013 at the Iowa Gold Star Military Museum at Camp Dodge. Branstad and Reynolds named Congressman Leonard Boswell and Casey's CEO Bob Myers the co-chairs of the initiative.
The Home Base Iowa Act was signed into law on May 26, 2014. It passed the Iowa Senate 46-0 and the Iowa House 94-2 . The Home Base Iowa initiative does the following:
Fully exempts military pensions from state income tax.
Gives veterans, their spouses and dependents in-state tuition at Iowa's colleges and universities.
Allows Iowa's licensing boards to adopt rules allowing credit for military training and experience in the licensing process.
Allows private-sector companies to follow the public sector's lead by allowing a preference in hiring and promoting veterans.
Eliminates the special plate issuance fees charged for plates associated with military service.
Expands eligibility for the Military Homeownership Assistance Program, which provides $5,000 in down payment and closing cost assistance. Additional funding for the program is provided in a separate appropriations bill.
In addition to the Home Base Iowa Act , Branstad also signed Senate File 2352 in 2014.
Senate File 2352 an Act relating to the additional homestead credit for certain disabled veterans and including effective date and applicability provisions.
For more information on Home Base Iowa, please visit www.HomeBaseIowa.org . Those interested in becoming a Home Base Iowa Business, a Home Base Iowa Community or a Home Base Iowa CHAMP should contact Jason Kemp, Home Base Iowa Program Manager at 515.725.3149 or jason.kemp@iowa.gov .
Contact: Governor's Office, 515-281-5211